Friday, April 18, 2008 was the 10th anniversary of my "girlfriend" Chris' 18th birthday (that's 28 for you slow folks)…in recognition of this magnanimous event, we decided to road trip to Houston for "Tattoos, Tequila, and Table Dances". After a few months of careful tattoo selection, we loaded up 2 vehicles and rolled out! The folks that rolled were: (in almost completely random order)
CHRIS (the birthday girl)…
XZAN (the birthday girl's best friend)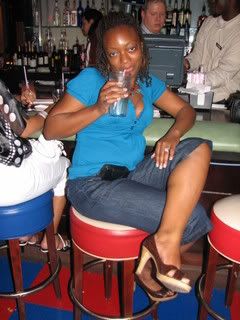 DEPHANIE (the birthday girl's co-worker)…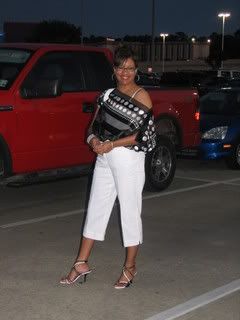 DEE (the birthday girl's best friend's cousin)…
ANDREA (the birthday girl's best friend's homegirl)…
ME (the birthday girl's OTHER best friend)…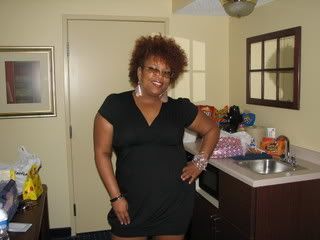 Our weekend went as follows…
FRIDAY we got tattoos @ the world famous Dago's…That night, we went to a club called The Office…SATURDAY we tried to single handedly stimulate the economy at the outlet mall! That evening we participated in Chris' favorite game…BILLIARDS…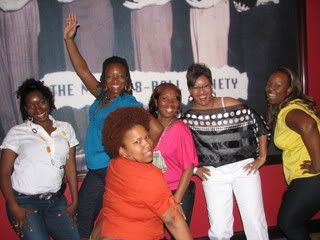 we went to Dave & Buster's, cozied up to the bar-TENDER, John,
and shot a few games of pool…She's gonna be a shark when she grows up!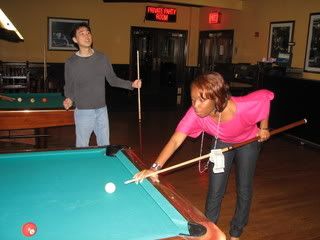 SUNDAY we went the Fountain of Praise to celebrate our God and all the wonderful things he's done for us! We also took a pledge to speak (be) positive for the next 21 days, because it takes 21 days to start/break a habit. That evening, we did one of MY favorite things to do…SPIT! We went to the Shadow Bar for some spoken word…ABCDE (Chris' spit alias) was supposed to get on the MIC, but forgot her paper and didn't want to hit the stage "naked"…I, of course, got on the performance phallus, because I hadn't spit in a month and need the release! Then we hit Scott Gertner's Sports Bar but it was so packed we couldn't stay…so we hit the Dave & Buster's across the parking lot for MORE DRANKS and POOL! Well, maybe more DRANKS than POOL...LOL
MONDAY we headed back to the "D"…we made one last pit stop at Dago's on the way out so I could get my tongue pierced…and then we hit the road…
I had a GREAT time…I can't wait for someone else's birthday!!!