HEY HEY HEY...This is Shannon reporting live from the toddler social event of the season! Clarence's 4th Surf's Up Birthday Bash! ok.. maybe that is a "tad" over blown but it was a good time! Clarence III's dad, Clarence II hereafter referred to a "2", was in charge of the party and convinced his sister to throw it in conjunction with her 2 daughter's shindig...it was a beach themed party with message in a bottle invitations.. (cool huh?) it was for 3 kids so the cake was too cute... it was a beach (graham cracker crumbs for sand) with 3 sets of flip flops on it, each shoe had the child's name on it and the age candle for that child was right next to their set of flops! it was very creative if I do say so myself...the festivities were on the other side of town from where my son and I live so only 2 kids came for Clarence's VIP section.. lol.. but somehow he still managed to get the most presents and money!
and since his older cousin read her bday cards, he insisted on reading his...out loud.. (keep in mind he will be 4 on the 18th and is still learning to read..lol) he said stood up and opened his biggest card... and in a big voice he said "dear Clarence.. happy birthday big boy... AMEN!" and closed the card in triumph! that's my boy! Once the gifts were ravaged, he didn't waste any time putting his little face in that awesomely cute cake!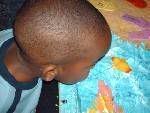 of course that was his piece.. LMAO.. we all had a good time and there was NO "co-parent" drama! I am glad my ex husband and I get along well enough for the party to have been a success but next year he will be 5.. and mommy's back on party patrol.. I will plan it and his dad can pay for it! Co-Parenting at it's finest.. HA!