heeeey ya'll.. I know I suck! It's been over 2 months since I've blogged...and although I still don't have a "job", I WORK....baby! Real life consists of momy-ing, team mommy-ing, MC's 6th b(earth)day, DeSoto Falcons Homecoming,
twitter
-ing, traveling, blogging for
Black Atlas
, woman-ing and just general shit and things...oh yeah...did I mention I got a new tattoo!??
YEAH!!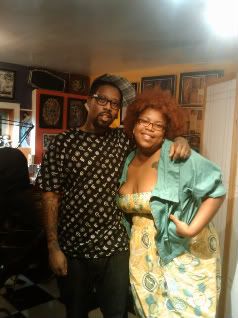 I got a new tattoo from the legendary, artistic genius that is
Miya Bailey
For those that know me...you know that all of my body art pieces (this one makes 11)have significant meaning for my life and evolution...I will post a blog explaining each of them real soon, but for now, the focus is my "pretty bird"! it's a phoenix...you know the mythological bird that doesn't die, but bursts into flames and is born again from it's own ashes...THAT'S ME! I have had to start my little life over several times so far and I'm reborn every time bigger and better! My phoenix is a "tangible illustration of my resilient spirit"...say word! I got it on my right foot for several reasons, the biggest being that my foot has suffered the slings and arrows of athlete's foot, an ant attack and a staph infection and has become discolored as a result...it's the only part of my body I'm hyper-sensitive about...so I decorated that muhfugguh!! I got the idea from that episode of The Cosby Show where Cliff and Claire were having a best dressed contest, but Claire hurt her foot...so she decorated the HELL out of her cast, to beat Cliff! Classic ME and shit! lol check it out! please ignore the swelling...I will post new pics when it heals completely!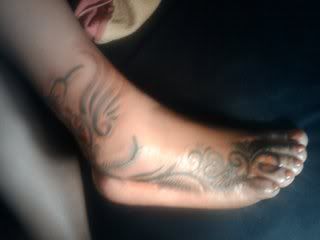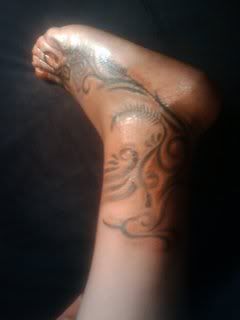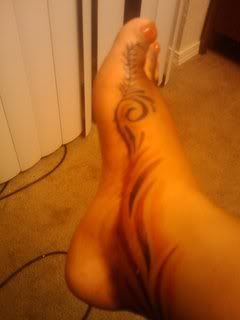 I freaking LOVE my phoenix and it was well worth the trip to ATL to get it done! What ya'll think??