My girl, SHUG AVERY, had a "Love Jones" spoken word competition on 02/04/09 in honor of Valentine's Day (and shit) and she asked me to come out! So I did...I have NEVER competed because most poetic competitions don't have a theme or topic which creates confusion in the audience because you get every topic imaginable! How can you line up poets and gauge their work/talent if it's like comparing apples to pizza to shoe polish...but this one had a topic...Plus, I have been penning some rather romantic type shit here lately and I was excited to be able to get it off my my page and let it fall from my lips...so I committed to the show...
Let it be said that I am a very relate-able poetess...I am not a fan of "uber-deep-pseudo-couplets strung together because you look revolutionary doing it"...you know the kinds of joints that you really can't follow but nod in approval because you don't want other folks to think you're not deep enough to "get it"...NEWSFLASH!!! they probably don't get it either, but want others to think they do..just like you...I prefer to hear stories or thoughts with a beginning, middle and end...maybe something funny...thoughtful...even revolution can be tangible...something I don't need a works cited page to understand...I call that shit "8 page prose" and I am not a fan...(hey that rhymed)
There were so many poets there that I have mad luv and respect for that I was excited about sharing with...so I got there and was schmoozing and boozing with the like minded mortals, the way Goody tends to do, and SHUG told me that there was a brief open mic before the competition, like a warm up. I was hyped cuz I could spit some non-eros mind candy amongst my peers...the others thunk the same thing cuz these cats hit the stage spitting thesis length works on REVOLUTION!!
Then the "competition" began...Now, when you think "Love Jones" set you think ROMANTIC poetry...right?? right?? WRONG!! First of all, we all know that most dudes get into to spoken word for the drawls...so I was completely expecting some ass-tastic, pantie wetting, booty-calling poetry being released like a good nut from the rose petal covered stage...oh but no! these cats hit the stage and (once again) spit never ending rants about AIDS, OBAMA and BAD ASS KIDS...and I was confused-ed...to my surprise, I was the only (feminine) woman competing so I took the opportunity to follow directions and spit on topic...the "L" word...not LOVE, but some real hard LIKE... At this point, I was poetically intimidated because serving SWEET LOVE in a room that's been fed HOT UPRISING may not be received in the mood it was intended...long story short...I made it to round 2 of the Kee-Kee Shepherd-ing and was ultimately trumped by a dope sister named SHALE that gave us a living metaphor about CANDYLAND and the CANDYMAN (the US and BUSH)..it ain't make me feel all warm and fuzzy nor lovey and dovey...but it was HOT SHIT, no lie...lol...(yeah that's HER)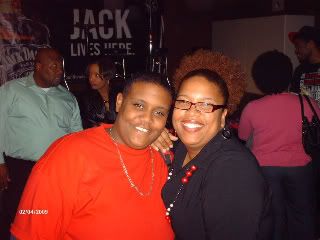 After that experience...I am 100% SURE (Maury) that poetic competition is like a 3some...seems exciting at first, but in the end it's overrated and too much work!
Be GOOD or Be GOOD AT IT... keep you eyes open for something sweet on the 14th!